It's hard to believe that just a few days ago I was swimming in the sea. White sand, sun glistening on the clear water and a snooze on the beach in our undies soaking up the sun!
Who flicked the switch? Autumn is well and truly upon us and with that comes a sense of dread. Rain, cold, muddy boot and paw prints everywhere, germs – snot, darkness, hibernation. Oh, I can't bear it!

Hang on a minute though….Autumn! Lighting the fire, snuggling up, soup, porridge, spices – ginger, cinnamon. Dramatic sky lines, falling leaves, beautiful earthy colours, shades of rust. Jumpers, boots, hats. Fizzy noses, runny noses, silly tissues – hankies!
Driving along roads scattered with bucketfuls of fallen chestnuts I've been remembering how excited we were by them last year – our first winter here. We went foraging and then roasted chestnuts on the woodburner. We had a great laugh as they exploded!
Love it or hate it the harder months are upon us. I plan on embracing it with a regular, large whiskey and ginger.
To be working outdoors and really seeing the seasons change is something I feel very grateful for. I won't forget the feeling of days gone by when I would walk to work in the dark and walk home in the dark and spend the day under flourescent strip lights.
Yesterday I spent the day under plastic as we worked hard in the greenhouse. I'm amazed that in October we can still enjoy home grown tomatoes, aubergines, chillies, peppers, cornichons and the loofahs look fantastic! Our mission yesterday was to attack the blight. The first bit of trouble we've had this year and considering no chemicals are used we're pretty pleased. So, to contain the beastly blight we stripped the infected leaves and black sacked them – adding blight to your compost bin is not recommended! We worked hard and systematically twisted and turned from plant to plant. The rain pattered on the plastic and the sky looked moody and I realised as I worked just how much I need to be in the garden. Its like a tonic. My shoulders loosen, and a feeling of contentment washes over. Mandy and I chat, moan, plan and then happily work in silence. It's so peaceful with just the sound of the rain, the odd cockeral oodle ooohing, the goats trotting past and Suno the donkey calling out now and then just to remind us he's there. It's the place to be! So with a box of tommies and aubergine to prepare some tea my black hands and I feel like it's been a job well done. A shower and lots of handwashing later my hands are still black from the tomato plants. My hands actually look disgusting – stained, dry and as for the fingernails…. Do I care? Nah.
We've been filming too and despite us both feeling run down with a lurgy we're pleased with our efforts. No rehearsal, straight in and we made a film! We hope to make many more – you've been warned folks! Making the Bottling Beetroot film was great fun and another aspect of my life that I never imagined happening. With the change of season you can't help reflecting a bit too. We moved to France 18 months ago and life has changed so much. It's not everyones cup of tea I know but for me it's pretty darn good.

Before I go and wrap birthday presents – Toby and Nick are 10 this week! I would just like to mention hats. We're still making hats to raise funds for the Calais Jungle and will be at the Euromayenne Craft Fair on Sunday 8 November, 10.00am to 6.00pm, at the Exhibition Hall, rue Volney, MAYENNE (53100) – Free Entry. It would be great to see you there! For those of you further away please get in touch if you would like to buy a hat – 'tis the season!
That reminds me….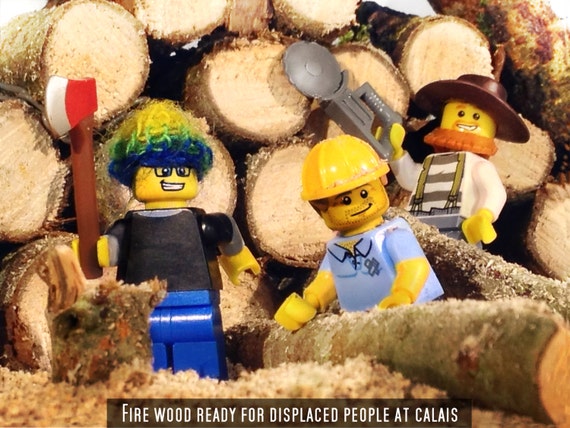 …….the boys have been doing their bit too. The girls are sewing and the boys are chopping logs – we may need to address the balance here?!
Hal
xxx